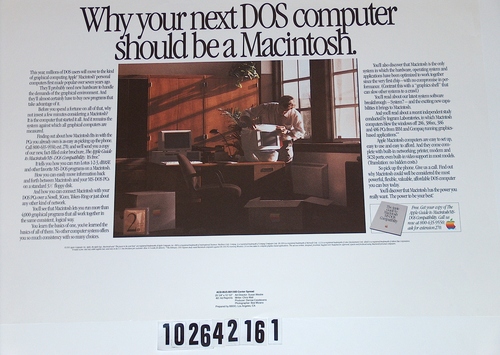 Title
Apple - Next DOS Computer
Description
Color poster with an image of a man unpacking a Macintosh computer in an office environment. Text describes how a customer will benefit from converting from a DOS based computer to a compatible Macintosh. A free booklet is offered by calling an Apple number.

Why your next DOS computer should be a Macintosh.]
Free. Get your copy of The Apple Guide to Macintosh/MS-DOS Compatibility. Call us at 800-635-9500, ask for extension 270 .
Date
2005-07-26
Publisher
Apple Computer, Inc.
Dimensions
16.25 x 23.5 in
Format
Photographic print
Category
Other: See Description; Poster
Credit
Gift of CHM AppleLore