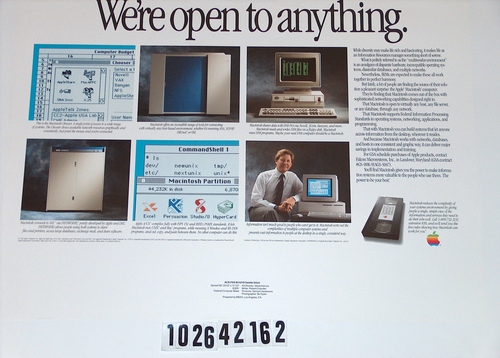 Title
Apple - We're open to anything.
Date
2005 ca.
Publisher
Apple Computer, Inc.
Dimensions
17.25 x 22.25 in
Format
Photographic print
Description
Color poster with six images along with text describing how the Macintosh can interface with other computers and networks. A free video showing "how Macintosh can work for you " is offered by calling 1-800-732-3131, extension 830. Two of the images are Macintosh screen shots, another is of a smiling man sitting next to a Macintosh. Another image is of a MS/DOS PC and the last two are of DEC machines. Under each image is descriptive text relating to Macintosh advantages.

We're open to anything..
Category
Other: See Description; Poster
Credit
Gift of CHM AppleLore