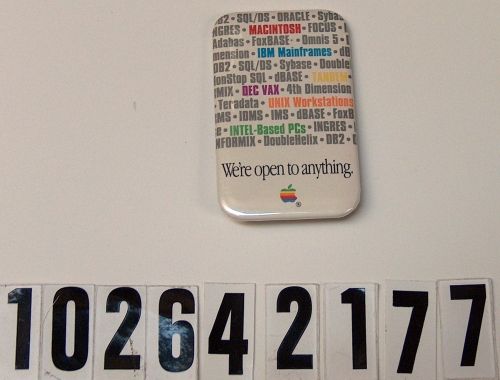 Title
Apple DB2 SQL/DS ORACLE etc. button
Description
"DB2 SQL/DS ORACLE Sybase INGRES MACINTOSH FOCUS IM Adabas FoxBASE Omnis 5 Dimension IBM Mainframes dBA DB2 SQL/DS Sybase DoubleH NonStop SQL dBase TANDEM Informix DEC VAX 4th Dimension Teradata UNIX Workstations RMS IDMS IMS d BASE FoxBASE INTEL-BASED PCs INGRES INFORMIX DoubleHelix DB2" above "We're open to anything." above Apple logo is printed on the button.
Manufacturer
Apple Computer, Inc.
Dimensions
3/8 x 1 5/8 x 2 5/8 in.
Category
Ephemera/badge / button
Credit
Gift of CHM AppleLore