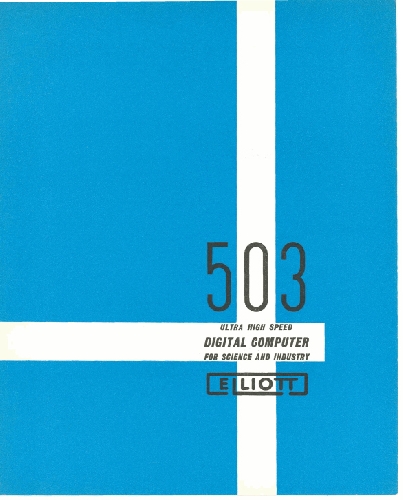 Title
503 Ultra High Speed Digital Computer For Science and Industry
Description
This is a blue, black and white brochure for the Elliott 503 digital computer. The front cover is blue with an off center cross on the lower right quadrant of the cover. The title printed on the center of the cross with the company logo underneath the title. The first part is the introduction of the computer, and ways it will revolutionize the economics of computer usage. Following is a description of the features of the system. The subsections are Basic Computer; Operating Speeds; Peripheral Equipment; Checking and Reliability; Compatibility with 803; and Programming Systems.
Date
1962
Publisher
Elliott Brothers (London)
Place of Publication
U.K.
Extent
4 p.
Dimensions
10 1/8 x 8 in.
Copyright Holder
Elliott Brothers (London)
Category
Promotional Material
Subject
I/O: printer; Business applications; Digital computer; ALGOL (Software); Scientific applications; I/O: paper tape; I/O: punched card; Software; promotional materials; Fixed-application digital computer; Elliott 503 (Computer); Elliott Brothers (London)