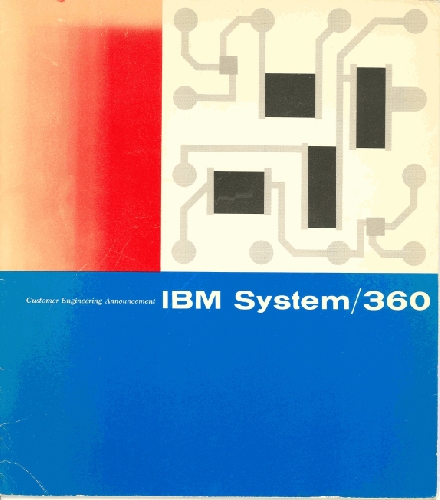 Description
The front cover of the brochure is divided into three red, white, and blue areas, the white area containing an abstract drawing of computer hardware in black and gray. The back cover is divided into two red and white areas, the white containing IBM's address. The front and back inside covers have blank white pages. Some inside pages are blank white, gray, or blue, others show full page, 2-color, photographs of computers, computer hardware, flow charts and diagrams of the computer's architecture, and photographs of people running the computer. Text contents headings include: IBM System/360; Solid logic technology; Processing units; Main storage, multiplexor and selector channels; Input/output; Programming and compatibility; and CE features.
Date
1964
Publisher
International Business Machines Corporation. Data Processing Division. (IBM)
Place of Publication
U.S.
Extent
21 p.
Dimensions
9 x 8 in.
Category
Promotional Material
Subject
Business applications; Digital computer: mainframe; promotional materials; IBM System/360 (Computer); International Business Machines Corporation (IBM). Data Processing Division