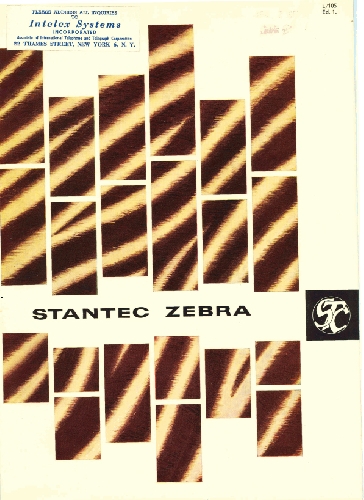 Description
Standard Telephones and Cables Limited logo is on the center right edge of the cover. The cover has a white background with blocks of brown and white zebra print arranged vertically. Through the blocks is written Stantec Zebra. A white label is affixed to the upper left corner directing inquiries to Intelex Systems in New York. A black stamp, partially smudged, reads APR 2 196(ineligible). Subsections in the brochure include Foreward; Physical Description; Storage; Equipment Practice; Stantec-Zebra Programming Features; Stantec-Zebra Input and Output; Tape Preparation and Editing Equipment; Brief Specification of the Basic Zebra; and Additional Storage Devices. Black and white images of women working with the computer and close ups of computer components are scattered throughout.
Date
1961
Publisher
Standard Telephones and Cables Limited, London (STC)
Place of Publication
U.K.
Identifying Numbers
| | |
| --- | --- |
| Other number | 9580 |
| Other number | Ed. 1 |
| Other number | L/105 |
Extent
12 p.
Dimensions
11 3/4 x 8 1/4 in.
Copyright Holder
Standard Telephones and Cables Limited, London (STC)
Category
Promotional Material
Subject
Stantec Zebra (Computer); Digital computer: mainframe; promotional materials; Scientific applications; Standard Telephones and Cables Limited, London (STC)