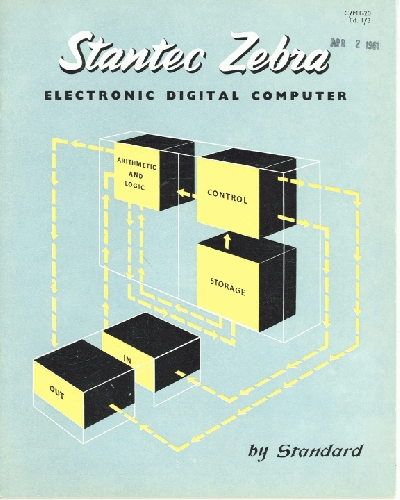 Title
Stantec Zebra Electronic Digital Computer
Description
Three color brochure for the Stantec Zebra electronic digital computer. The cover has a grey background with a black, white and yellow flowchart in the center. The company logo is in the lower right corner. A date stamp for APR 2 1961 has been added, post printing, at the upper right. The first page has a post printing stamp reading :Please address inquiries to Intelex Systems Incorporated 22 Thames Street New York 6, N.Y." There is a black and white numbered image of the three main parts of the computer on page three. Three images of computer components are scattered in other areas of the brochure. Subsections include Introduction; Description; the Computer Cublicles; the Control Desk; the Power Cubicle; Special Features; Programming Facilities; Brief Specification; Associated Companies; and Agents. The last page contains detailed information about Standard Telephones and Cables Limited.
Date
1957
Publisher
Standard Telephones and Cables Limited, London (STC)
Place of Publication
U.K.
Identifying Numbers
| | |
| --- | --- |
| Other number | 7511 |
| Other number | C/MT-20 |
| Other number | Ed. 1/3 |
Extent
12 p.
Dimensions
10 x 7 7/8 in.
Copyright Holder
Standard Telephones and Cables Limited, London (STC)
Category
Promotional Material
Subject
Standard Telephones and Cables Limited, London (STC); Scientific applications; Digital computer: mainframe; promotional materials; Stantec Zebra (Computer)