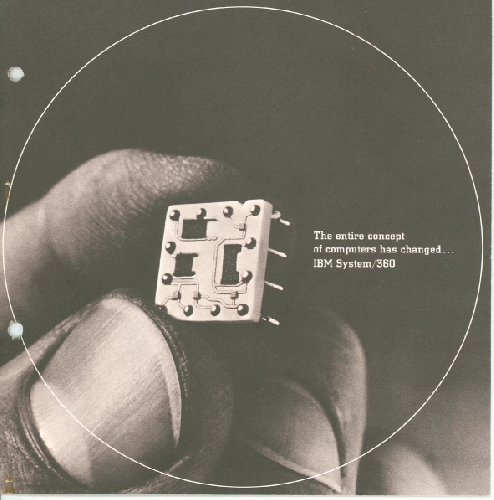 Title
The Entire Concept of Computers Has Changed...IBM System/360
Description
Black and white brochure for the IBM System/360. The front cover is a black and white photographic close up of a man's hand holding a microchip within a circle. To the right of the microchip is the title "The entire concept of computers has changed...IBM System/360." The inside of the front cover has a black circle and a blurred copy of a page on which System/360 is written over and over. And introduction to the system is at the front of the brochure. There are multiple very small subsections including those on Memory protection; New channel power; Decimal-binary operation; Audio response to computer inquiries; New, simplified storage control; and Comprehensive programming support amongst others. Black adn white images of men and women working with the system are scattered throughout the brochure in both square and circular frames. The back cover has another circle with IBM's address and contact information and, in the middle of the circle, in red outline, a multi-layered star-like shape.
Date
1964
Publisher
International Business Machines Corporation (IBM)
Place of Publication
U.S.
Extent
10 p.
Dimensions
8 1/4 x 8 1/4 in.
Copyright Holder
International Business Machines Corporation (IBM)
Category
Promotional Material
Subject
Software; Business applications; Scientific applications; FORTRAN (Software); Digital computer: mainframe; COBOL (Software); promotional materials; International Business Machines Corporation (IBM); System/360 (Computer)
Credit
Gift of Thomas J. Buckholtz and Helen T. Buckholtz