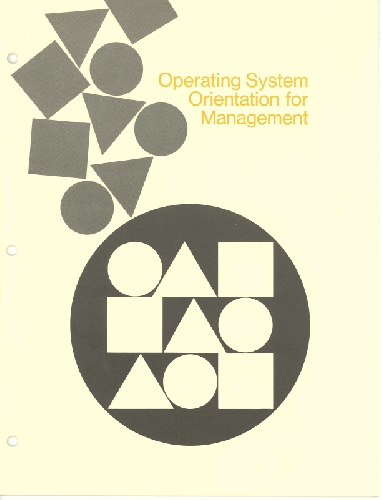 Title
Operating System Orientation for Management
Description
The brochure introduces Series 200 computers as offering more computing power per dollar than any other data processing system. The brochure is printed on beige paper and hole punched for a 3-ring binder. The front cover of the brochure shows an abstract design of a circle with cut out triangles and squares and the title in the upper right. The back cover shows the company logo. Abstract geometric and arrow design motifs in gray, orange, tan, and brown continue throughout the inside pages, most with a decorative function. One full page chart illustrates the text explaining the structure of the operating system. Text contents include: Advantages of operating system control; Structure of an operating system; Some criteria for evaluating operating systems; Series 200 operating system in review; qne Three generations of operating experience. A thank you card from Honeywell is included.
Date
1966
Publisher
Honeywell Information Systems, Inc.
Place of Publication
U.S.
Identifying Numbers
| | |
| --- | --- |
| Other number | 127.0005.0000.0472 |
| Other number | 15866 |
Extent
10 p.
Dimensions
11 x 8 1/2 in.
Copyright Holder
Honeywell Information Systems, Inc.
Category
Promotional Material
Subject
Software; promotional materials; COBOL (Software); Honeywell Information Systems, Inc.; FORTRAN (Software); Business applications; Scientific applications; Digital computer; Series 200 operating system (Software); Series 200 (Computer)
Credit
Gift of Thomas J. Buckholtz and Helen T. Buckholtz