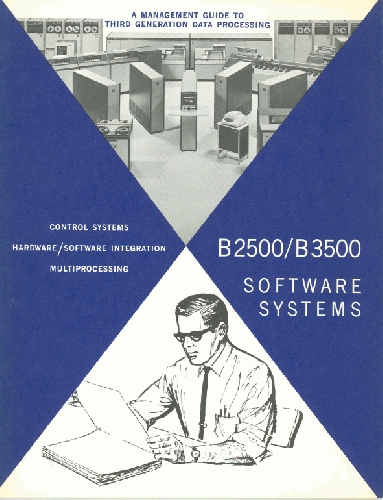 Title
A Management Guide to Third Generation Data Processing: B2500/B3500 Software Systems
Description
A four color brochure for the B2500/B3500 Software Systems. The cover is divided into four sections; the top section features a picture of the the B2500/3500 central processor and peripherals while the bottom section shows a drawing of a man reading through a print-out. The inside cover features a picture of a man using a Burroughs machine, a description of the contents of the brochure, and a table of contents. These sections include "Operating Systems," "COBOL," "FORTRAN," "Assembler Programing Systems," "Report Program Generators," "Sort Program Generators," and "Media Conversion Program Generators." The "Operating Systems" section focuses on the B2500/B3500's multiprocessing capabilities using the Master Control Program (MCP). On page 6, a chart contrasts multiprocessing and conventional "one-at-a-time" processing. Another chart is included on page 7 to further illustrate the multiprocessing capabilities of the system. A black and white photograph of the central processor and its peripherals is featured on page 18.
Date
1967
Publisher
Burroughs Corporation
Place of Publication
U.S.
Identifying Numbers
| | |
| --- | --- |
| Other number | 1028404 |
| Other number | 2-67 |
Extent
18 p.
Dimensions
10 7/8 x 8 3/8 in.
Copyright Holder
Burroughs Corporation
Category
Promotional Material
Subject
promotional materials; Software; FORTRAN (Computer program language); B2500 (Computer); Business applications; Punched card systems; Digital computer: mainframe; COBOL (Computer program language); Burroughs; B3500 (Computer)