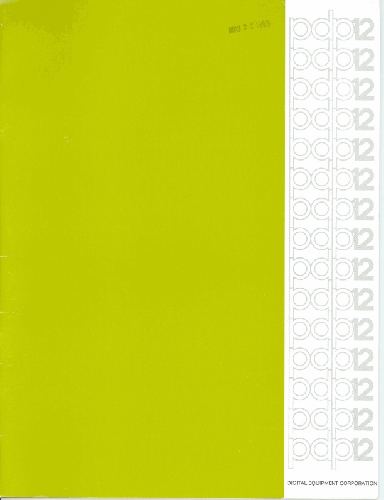 Description
Four color brochure for the DEC PDP-12. The cover is green with pdp12 repeated in a gray and white vertical column on the far right edge. Digital Equipment Corporation is written in black in the very lower right corner. A date stamp of MAY 21 1969 is at the upper center-right edge. The interior contains, at its center, a 3-page fold out four-color image of the components of the PDP-12. Subsections include The New PDP-12; Applications; Software; Hardware; OptionsPeripherals; Digital History; and Field Service. System diagrams and screen shots are scattered throughout the brochure. Technical specifications are included. Verso cover lists all national and international DEC offices with their contact information.
Date
1969
Publisher
Digital Equipment Corporation (DEC)
Place of Publication
U.S.
Identifying Numbers
| | |
| --- | --- |
| Other number | S-10 - 4/69 - 20M |
Extent
20 p.
Dimensions
11 x 8 1/2 in.
Copyright Holder
Digital Equipment Corporation (DEC)
Category
Promotional Material
Subject
Floating Point Packages (Software); FORTRAN (Software); FOCAL (Software); Digital Equipment Corporation (DEC); Signal Averaging Program (Software); PDP-12 (Computer); CURSOR (Software); Fixed-Point Mathematical Routines (Software); GRAPHA (Software); MAGSPY (Software); Utility Programs (Software); Maintenance Programs (Software); Scientific applications; Graphics applications; FRQANA (Software); Digital computer: minicomputer; Data-12 (Software); Software; promotional materials
Credit
Gift of Thomas J. Buckholtz and Helen T. Buckholtz