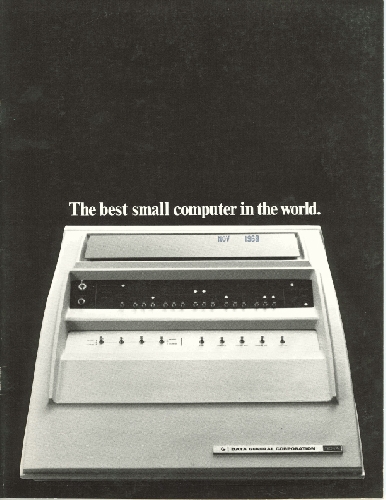 Title
Data General Nova minicomputer
Description
A black and white brochure for the NOVA.. The cover features a picture of the NOVA under the heading "The best small computer in the world" and a date stamp for November, 1968. The back cover has two pictures of the NOVA over the logo for Data General Corporation (DGC). The inside cover includes a picture of Edson D. de Castro, President of Data General Corporation, and the heading "A hard look at small computers." A personal explanation of the small computer trend is given on page 2. On pages 3 and 4, Richard G. Sogge, Vice President of DGC, explains "The hardware" and "In and out" of the NOVA. These explanations are accompanied by a picture of Sogge holding a piece of equipment. Pages 5 through 8 feature information about the "Instruction power" of the NOVA and its software, along with pictures of Henry Burkhardt, III, Vice President of DGC. Sections on "Configuring your system" and "Service, pricing, and delivery" are included on page 10, next to a picture of Herbert J. Richman, Vice President of DGC. Pages 11 through 14 feature NOVA technical specifications, instructions and options. A loose business reply is included in the brochure, along with a perforated information card. The card offers a brief description of the NOVA and its price.
Date
1968-11
Publisher
Data General Corporation (DGC)
Extent
14 p.
Dimensions
11 x 8 1/2 in.
Copyright Holder
Data General Corporation (DGC)
Category
Promotional Material
Subject
promotional materials; Digital computer: minicomputer; Sogge, Richard G.; Burkhardt, Henry, III; Business applications; NOVA (Computer); de Castro, Edson D.; Data General Corporation (DG); Richman, Herbert J.
Credit
Gift of Thomas J. Buckholtz and Helen T. Buckholtz