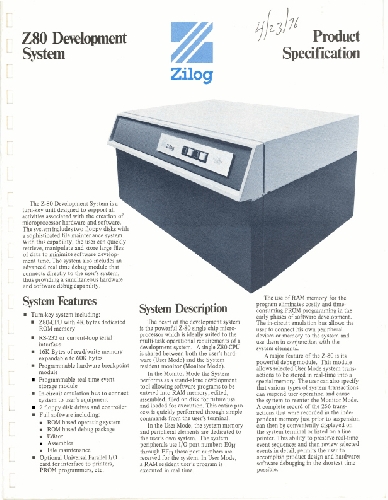 Title
Zilog Z80 Development System Product Specification
Description
The brochure introduces the Z80 development system as designed to support all activites involving microprosessor hardware and software. The brochure is printed in blue and black on white paper and opens up into a 3-page centerfold. The front cover, which has the date of 4/23/76 handwritten in blue ink on upper right corner, shows a black and white photographs of the Z80 and the company logo; the back cover provides a list of Z80 specifications. hardware. On the centerfild page, blue and black diagrams show how the software functions. Text contents include: System Features; System Descriptions; Hardware Module Description; Chassis Description; Software Description; and Specifications.
Date
1976
Publisher
Zilog, Inc.
Place of Publication
U.S.
Extent
4 p.
Dimensions
11 x 8 1/2 in.
Copyright Holder
Zilog, Inc.
Category
Promotional Material
Subject
Business applications; Z80 (Computer); Digital computer: development system; promotional materials; Zilog, Inc.