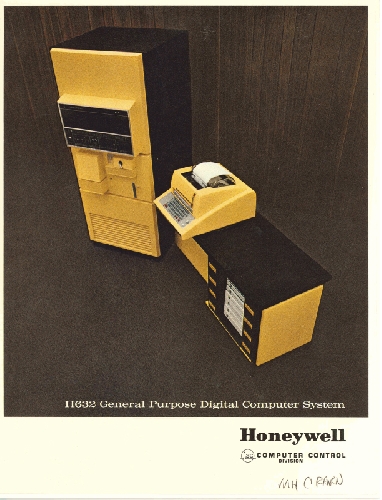 Title
H632 General Purpose Digital Computer System
Description
A four color brochure for the H632 general purpose digital computer system. The cover of the brochure features a picture of the H632 and a terminal. The name MH Craven is written in the bottom right hand corner. On the inside cover, there is a picture of a man using the H632 and the heading "Computer systems with the golden touch... that work for pennies." A short description of the H632 and the Honeywell Series 32 follow. A listing of the system's features and its price are included on page 3. Subsections of the brochure include Advanced System Organization; Specifications/Extensive Software Package; Complete Line of Peripherals and Subsystems; Wide Variety of Applications; and Full Support Services. Charts of the Input/Output Processor (IOP); the Multiprocess Controller (MPC); the Mathematical Library; the Trainer System; High-Speed Data Acquisition; General-Purpose Scientific Data Processing; and the Research Computer Facility are included throughout the brochure. There are several pictures of a man and woman using the H632 in an office. Technical specifications are included in the brochure. There is a loose page that lists a pricing schedule and the cost ofeach item. The name MH Craven is also written on this page.
Date
1968
Publisher
Honeywell Inc. Computer Control Division
Place of Publication
U.S.
Identifying Numbers
| | |
| --- | --- |
| Other number | 4-687 |
| Other number | 632C |
Extent
18 p.
Dimensions
11x 8 1/2 in.
Copyright Holder
Honeywell Inc. Computer Control Division
Category
Promotional Material
Subject
promotional materials; Honeywell Series 32; FORTRAN (Software); Software; H632 (Computer); Honeywell Information Systems, Inc. Computer Control Division; Digital computer: minicomputer