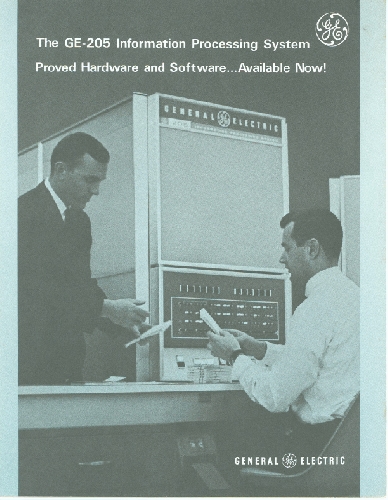 Title
The GE-205 Information Processing System Proved Hardware and Software...Available Now!
Description
Front cover of brochure has a blue and white, full page photograph of two men working at the GE-205 computer and the GE logo on upper right corner. The back cover has a list of GE offices, domestic and international. Some inside pages have blue, and others white, backgrounds. Images show photographs of people working on the GE-205, and small drawings of the GE-205 periphals with text descriptions. Text contents include: Compatability...how to protect your investment; GE-205 hardware...proved by time...available now; GE software...customer-tested...immediately available; and Supplementary General Electric services...how can we help with your GE-205?
Date
1964
Publisher
General Electric Company (GE)
Place of Publication
U.S.
Extent
6 p.
Dimensions
11 x 8 1/2 in.
Copyright Holder
General Electric Company (GE)
Category
Promotional Material
Subject
Scientific applications; General Electric Company (GE); Business applications; Digital computer: mainframe; Software; FORTRAN II (Software); promotional materials; GE-205 (Computer)