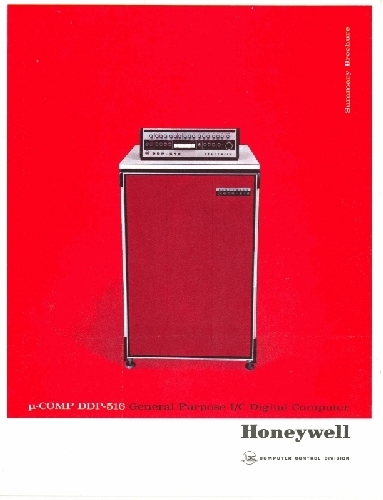 Title
u-COMP DDP-516 General Purpose I/C Digital Computer
Description
The brochure introduces the u-Comp DDP-516 as a third generation general purpose digital computer. The front cover of the brochure shows a color photograph of the u-COMP DP-516 computer against a red background. The back cover lists the addresses of Honeywell's domestic offices and provides a punch out postcard addressed to Honeywell, on which the user can select conformation to be sent. The centerfold shows a black and white photpgraph of a man using the u-COMP DP-516 computer. Text contents include: From the house that built the first 16-bit compact and the first commercial I/C computer...u-COMP DDP-516; Background; High performance hardware; Input/output; Options; Software; and Reliability.
Date
1966
Publisher
Honeywell Inc. Computer Control Division
Place of Publication
U.S.
Extent
2 p.
Dimensions
11 x 8 1/2 in.
Copyright Holder
Honeywell Inc. Computer Control Division
Category
Promotional Material
Subject
promotional materials; Business applications; Honeywell Information Systems, Inc. Computer Control Division; Scientific applications; Digital computer: minicomputer; Software; Fortran IV (Software); u-COMP DDP-516 (Computer)