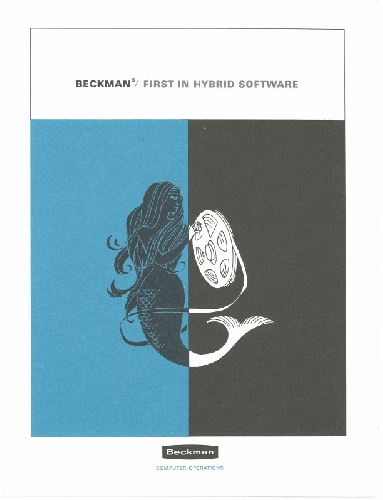 Title
Beckman First Hybrid Software
Description
The brochure introduces the Beckman hybrid programming software as designed for the Beckman integrated computing system, an analog and digital computing system. The brochure is printed in two colors, blue and black on white paper, but opens up into a 3-page centerfold of pale blue paper, which shows black and white photographs of a punch card, punched tape, and tape on reels. The front cover shows a mermaid reeling in a reel of output tape. The company address is on the back cover with the company logo on both front and back covers. Text contents include: Structure of programming systems; Hybrid programming systems; Utility systems; Beckman: First in hybrid software.
Date
1960 - 1969
Publisher
Beckman Instruments, Inc.
Place of Publication
U.S.
Identifying Numbers
| | |
| --- | --- |
| Other number | 2CO655395657 |
Extent
4 p.
Dimensions
11 x 8 1.2 in.
Copyright Holder
Beckman Instruments, Inc.
Category
Promotional Material
Subject
Hybrid FORTRAN II (Software); Software; Hybrid FORTRAN IV (Software); Beckman hybrid programming system (Software); Digital computer; Beckman Instruments, Inc.; Beckman integrated computing system (Computer); Analog computer; promotional materials; Hybrid executive (Software)
Credit
Gift of Thomas J. Buckholtz and Helen T. Buckholtz