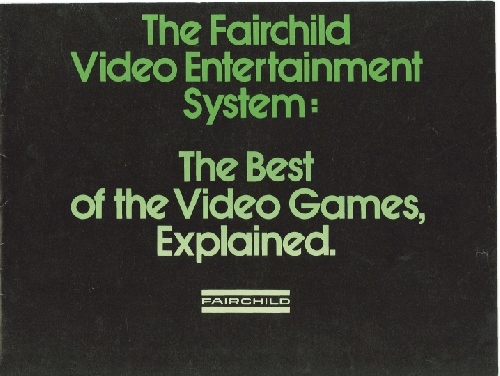 Title
The Fairchild Video Entertainment System: The Best of the Video Games, Explained
Description
The brochure introduces the Video Entertainment System as the finest video game system on the market at that time. The brochure is printed in green and black on white paper with the front and back covers having a black background, green lettering, and showing the company logo. Throughout the inside pages black and white photographs show how to operate the system and black and green drawings show sample screens. Text contents include: Getting Acquainted with Components; Connecting the System to the Set; FCC Cautions; Playing Hockey; Playing Tennis; and Troubleshooting the system. Included is a tan, prepaid postcard addressed to the company that provides a place for the user to write their name and address.
Date
1976
Publisher
Fairchild Camera and Instrument Corporation
Place of Publication
U.S.
Extent
10 p.
Dimensions
7 1/2 x 9 7/8 in.
Copyright Holder
Fairchild Camera and Instrument Corporation
Category
Promotional Material
Subject
Entertainment/Gaming applications; Fairchild Camera and Instrument Corporation; Fixed-application digital computer: entertainment; promotional materials; Video Entertainment System (Computer)