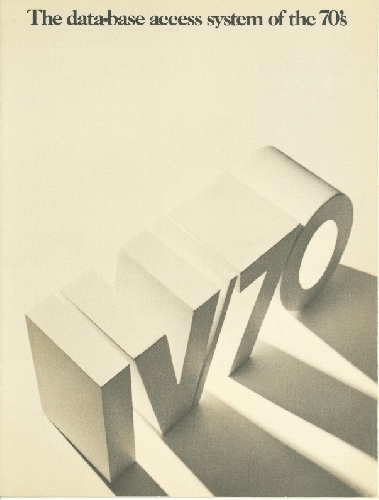 Title
System IV/70: the data-base access system of the 70s
Description
Four color brochure for the System IV/70. The cover features the term IV/70 casting a shadow under the heading "The data-base access system of the 70's." The cover also folds out to show a diagram of "The System" and its relationship to the database and video terminals. Subsections of the brochure include information of the display system, system applications, the central processing unit, and the keyboard. Pictures of the CPU, LSI chips, and the display are included throughout the brochure. Technical specifications are included along with an instruction set of codes.
Date
1970
Publisher
Four-Phase Systems, Inc.
Place of Publication
U.S.
Identifying Numbers
| | |
| --- | --- |
| Other number | FL1 10/70 10M |
Extent
16 p.
Dimensions
11 x 8 1/2 in.
Copyright Holder
Four-Phase Systems, Inc.
Category
Promotional Material
Subject
IBM 360 (Computer); IV/70; IBM 2260/2848 display system; promotional materials; Business applications; Four-Phase Systems, Inc.; Digital computer: workstation