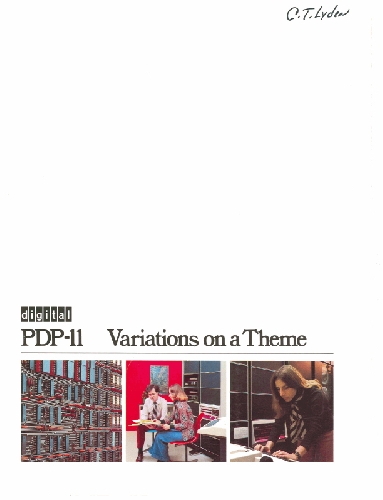 Title
PDP-11 Variations on a Theme
Description
Four color brochure for the PDP-11 and peripherals. The cover features pictures of men and women using PDP-11 minicomputers in the office. The brochure includes information on the PDP-11, software, and peripherals. Subsections include PDP-11 Operating Systems; Languages and Utilities; Data Management and Utility Services; The Processors; and Corporate Services. Black and white pictures of PDP-11s being used in offices, schools, warehouses, laboratories, and operating rooms are included throughout the brochure.
Date
1977
Publisher
Digital Equipment Corporation (DEC)
Place of Publication
U.S.
Identifying Numbers
| | |
| --- | --- |
| Other number | EA 07888 20/77 060 23 050 |
Extent
48 p.
Dimensions
11 x 8 3/8 in.
Copyright Holder
Digital Equipment Corporation (DEC)
Category
Promotional Material
Subject
Business applications; BASIC (Software); Scientific applications; FORTRAN (Software); COBOL (Software); Digital computer: minicomputer; Software; promotional materials; APL (Software); Digital Equipment Corporation (DEC); PDP-11 (Computer)