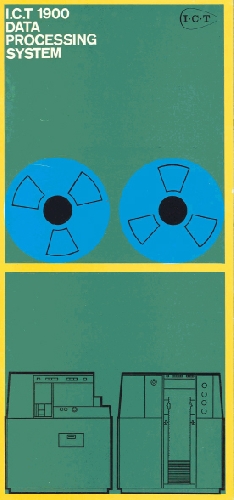 Title
I.C.T. 1900 Data Processing System
Description
Brochure for the I.C.T. 1900 data processing system. The laminated cover has a yellow border with a horizontal yellow line through the middle of the cover separating the cover into two squares. In the upper square, is the title in white, in the upper left corner. The company logo, in black, is in the upper right corner. Two tape reels in blue and black are in the middle. The lower block has a black outline sketch of the mainframe system. The background of the entire cover is green. The inside front cover and the inside back cover contain black and white images of the computer. The inner pages are un-laminated and are black text with black outline sketches of the computer printed on yellow cardstock. Subsections include Central Processor; Peripheral Equpiment; and Software. Technical specifications are included. The last interior page consists entirely of contact information for ICT offices in various countries.
Date
1964
Publisher
International Computers and Tabulators, Limited (ICT)
Place of Publication
England
Identifying Numbers
| | |
| --- | --- |
| Other number | P.210/3.64/7M/KNP |
Extent
3 p.
Dimensions
8 1/4 x 3 7/8 in.
Copyright Holder
International Computers and Tabulators, Limited (ICT)
Category
Promotional Material
Subject
I.C.T. Rapidwrite (Software); PAYE (Software); RPG (Software); FORTRAN (Software); EMA (Software); MAC (Software); Digital computer: mainframe; COBOL (Software); Software; International Computers and Tabulators, Limited (ICT); ALGOL (Software); promotional materials; ICT 1900 (Computer); PLAN (Software)