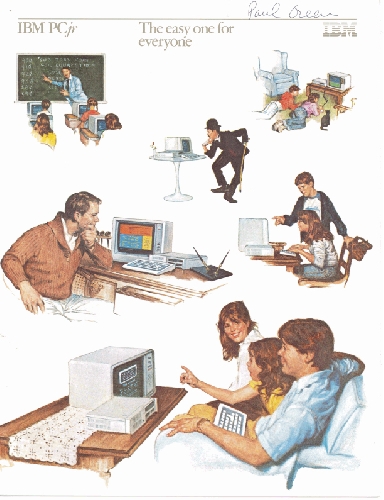 Title
IBM PCjr: The Easy One for Everyone
Description
Four color brochure for the IBM PCjr. The front and back covers feature drawings of families, classrooms, and businesses using the PCjr under the heading "The easy one for everyone." The brochure includes information on managing your finances, getting organized, playing games, and using educational programs. The peripherals include a cordless infrared keyboard, the IBM Color Display, joysticks, and printers. Pictures of families using the PCjr at home to play games or keep financial records are featured throughout . Technical specifications are included in the back of the brochure, along with a software compatibility chart.
Date
1983
Publisher
International Business Machines Corporation (IBM)
Place of Publication
U.S.
Extent
12 p.
Dimensions
11 x 8 1/2 in.
Copyright Holder
International Business Machines Corporation (IBM)
Category
Promotional Material
Subject
Educational applications; Digital computer : personal; Personal applications; Entertainment/Gaming applications; promotional materials; International Business Machines Corporation (IBM); IBM PCjr (Computer)