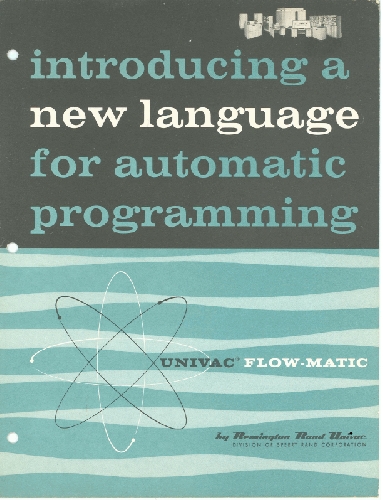 Title
Introducing a New Language for Automatic Programming Univac Flow-Matic
Description
Three color brochure for Univac Flow-Matic. The cover is black on top with green and white lettering. In the upper right corner is a black and white picture of a Univac computer. The lower portion of the cover has a zebra-like print in two shades of green. A graphic consisting of three intersecting oval shapes is on the left. The logo for Remington Rand Univac is on the lower right. The first two pages consist of a general rundown of the features of Univac Flowmatic and contains a quote from a "Typical FLOW-MATIC User" citing the advantages of the language. The middle of the brochure includes 7 numbered boxes with text and graphics that each note a savings. The lower right corner has a section on "Support of the Leaders in Programming Research." The last two pages contain drawings of flowcharts and coding.
Date
1957
Publisher
Sperry Rand Corporation. Univac Data Processing Division
Place of Publication
U.S.
Extent
6 p.
Dimensions
11 x 8 1/2 in.
Copyright Holder
Sperry Rand Corporation. Univac Data Processing Division
Category
Promotional Material
Subject
Scientific applications; Univac System (Computer); Digital computer: mainframe; promotional materials; Software; Sperry Rand Corporation. Univac Data Processing Division
Collection Title
Charles A. Jortberg collection
Series Title
Remington Rand records
Credit
Courtesy of Charles Jortberg