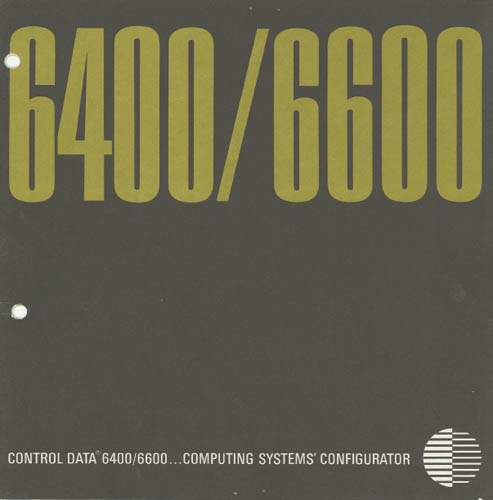 Title
Control Data 6400/6600... computing system's configurator
Description
This is a green, black and white brochure for the Control Data Corporation 6400/6600. The front cover has a black background with "6400/6600" in bold green on the top. On the bottom right corner is the CDC logo. The first part is a description of the computer. Subsections include Twelve Data Channels; Ten Peripheral/Control Processors; Central Memory; Central Processor; Transition to Software; Software. Following is a diagram of the 6400/6600 peripherals. The diagram shows the peripheral specifications and shows how the peripherals work with the main frame. In this section there are two tables. Table A includes data about disk storage and Table B has data for extended core storage. Following is diagram of the 3000 series peripherals. It has the peripheral specification as well as how they interact with the main frame and each other. There are three tables. Table 1 is about Magnetic Tape Controllers. Table 2 is about Mass Storage Controllers. Table 3 is about Mass Storage.
Date
1968
Publisher
Control Data Corporation (CDC)
Place of Publication
U.S.
Extent
6 p.
Dimensions
8 1/2 x 8 3/8 in.
Copyright Holder
Control Data Corporation (CDC)
Category
Promotional Material
Subject
Software; promotional materials; COBOL (Software); Control Data 6400/ 6600 (Computer); FORTRAN (Software); ALGOL (Software); Digital computer: mainframe; Control Data Corporation (CDC); Scientific applications