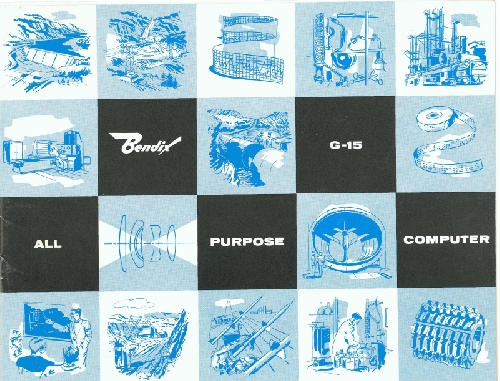 Title
Bendix G-15 All Purpose Computer
Description
The brochure introduces the Bendix G-15 as a high-speed computer that solves mathematical problems of industry or research. The brochure is printed in blue, black and white on white paper. The front cover shows drawings in blue and white of various industrial applications for the G-15. The back cover shows the company logo. Drawings in blue and black of industrial applications of the G-15 continue throughout the inside pages, in addition to blue and white photographic close ups of computer components, and black and white photographs of computers and peripherals in office settings and people in classrooms. The 90 day free maintenance service policy has been crossed out in blue ink on page 12. Text contents include: A new concept in computers; The new and different Bendix G-15 all-purpose computer system; Who should have an electric computer?; The command system; Simplified programming; Simplified operation; Input and output; The digital differential analyzer; Training, maintenance, and mathematical services; Large capacity, low price...; G-15 system specifications.
Date
1956
Publisher
Bendix Corporation
Place of Publication
U.S.
Identifying Numbers
| | |
| --- | --- |
| Other number | Brochure No. 2-4 |
Extent
14 p.
Dimensions
8 1/2 x 11 in.
Copyright Holder
Bendix Corporation
Category
Promotional Material
Subject
Business applications; Bendix Corporation; Educational applications; promotional materials; Digital computer: other; Bendix G-15 (Computer)