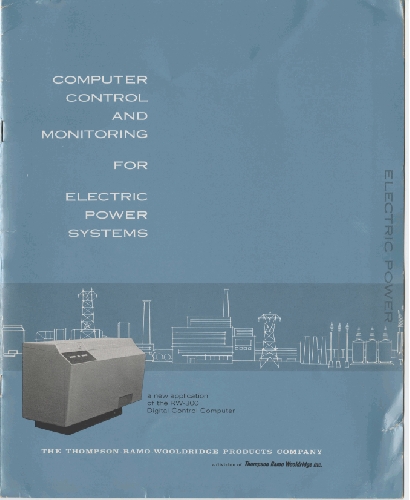 Date
1962 ca.
Publisher
Thompson Ramo Wooldridge, Inc. (TRW)
Extent
10 p.
Dimensions
11 1/2 x 9 1/4 in.
Copyright Holder
Thompson Ramo Wooldridge, Inc. (TRW)
Description
The brochure introduces the RW-300 Digital Control Computer as the most reliable computer control system for a steam generating plant available today. The brochure is printed in black and white except for the front and back covers, which have blue backgrounds. The brochure's jacket extends 3/4 in. beyond the inside pages. The front cover shows a black and white photograph of the RW-300. Drawings of electric power stations and industrial uses for electric power and the company name and logo are displayed on the jacket's front and back. Inside pages provide text and graphic information about the RW-300, including labeled schematic diagram, black and white photographs, and a map of the U.S. showing TRW's regional centers. Text contents include: The RW-300 control and monitoring system; The advantages of RW-300 control; Units of the RW-300 system; The Thompson-Ramo-Wooldridge Products Company.
Category
Promotional Material
Subject
Military/Aerospace applications; Fixed-application digital computer: industrial; Thompson Ramo Wooldridge, Inc. (TRW); RW-300 Digital Control Computer (Computer); promotional materials; GE; chemical; metal
Credit
Gift of Thomas J. Buckholtz and Helen T. Buckholtz