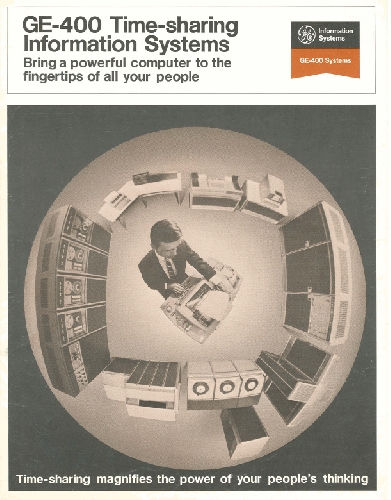 Title
GE-400 Time-sharing information systems: Bring a powerful computer to the fingertips of all your people
Description
This is a brown, black and white brochure for the General Electric 400 Time-sharing Information System. The front cover has the title boxed in on the top. The top right corner has the GE logo. The rest of the cover has a black box with a circular black and white photograph of a man at a typewriter surrounded by the computer system. The photograph looks magnified and so the photograph is distorted, with center looking larger than the edges. Underneath the photograph there is a caption that states "Time-sharing magnifies the power of you people's thinking." There are black and white photographs scattered throughout the brochure. Following is an introduction of the GE-400 Time-sharing system. Includes in this section is a pixilated brown and white photograph of a person pressing a button at a console. Following is a section that is title Time-sharing Is Really Computer-sharing, which gives the advantages of time-sharing. The subsection is The Computer Feels Like Your Alone. Following is a section titled Ten Important Benefits of GE-400 Time-sharing. Subsections include 1. Your people have instant access to the full power of a computer; 2. Increased productivity; 3. Uses the easiest computer language you devised; 4. FORTRAN for you most complex computations; 5. Grow the system in easy steps; 6. Switch off time-sharing; switch on batch processing; 7. Develop new programs and applications easily; 8. Everyone has exclusive use of the computer; 9. Proved hardware reliability; 10. Proved General Electric time-sharing software. Following is a section titled GE-400 Time-sharing Is for Everyone. Subsections include Beginners Can Learn BASIC in Hours; Experiences Programmers Have Their Choice of BASIC or FORTRAN; Convert to Batch Processing in Minutes; Run Batch from Remote Locations, Too. Following is a section titled GE-400 Time-sharing Has Many Applications, which describes the advantages of the system in various environments, such as Industry, Banking, Research and Development. Following is a section titled GE-400 Time-sharing System Configuration, which describes the computer components. Subsections include Start With the Ge-430 and Grow; Central Processor; DATANET-30 communications processor; Removable disc storage subsystem; Printer; Card reader; Remote Terminals; Optional Equipment.
Date
1968-06
Publisher
General Electric Company (GE)
Place of Publication
U.S.
Extent
10 p.
Dimensions
11 x 8 3/8 in.
Copyright Holder
General Electric Company (GE)
Category
Promotional Material
Subject
I/O: terminal / Teletype; promotional materials; Business applications; BASIC (Software); FORTRAN (Software); Digital computer: mainframe; I/O: punched card; Memory: disk; Software; GE-400 Time-sharing Information System (Computer); General Electric Company (GE)