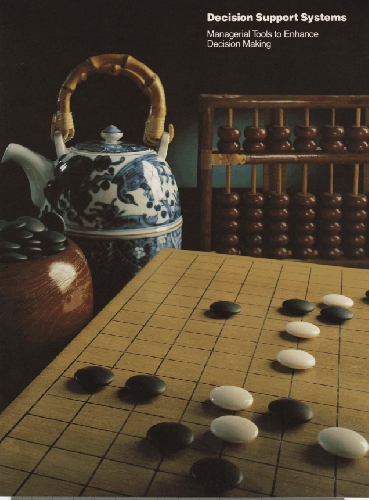 Title
Decision support systems: Managerial tools enhance decision making
Date
1977
Publisher
Tymshare, Inc.
Place of Publication
U.S.
Extent
9 p.
Dimensions
12 x 9 in.
Copyright Holder
Tymshare, Inc.
Description
This is a four-color brochure for the Tymshare Decision Support System (DSS). The front cover has a color photograph of Go pieces on a Go game board on a black background. There is an abacus in the back, next to a tea pot. To the left of the game board there is a bowl of black Go pieces. The inside cover is green with a smaller scaled photograph from the front cover, placed in the bottom left corner. There is a section called The DSS Difference, which includes the subsection Need for decision-making support and Role of a Decision Support System. Following is a description of the DSS benefits, which include Direct access to information; Access to the kind of information you need; Information when you want it; Results the way you want to see them; Ability to make comparisons; Freedom from time-consuming tasks. Included in this section is a chart that shows the areas that DSS can help in for Operation Control, Management Control, and Strategic Planning. The following is a about DSS development, starting with new technologies. Subsections include Timesharing computers; Interactive systems; Sophisticated software. Included in this section are two color photographs. One is of a man talking to two other people; pointing at the computer monitor. The other is of a man sitting at a desk with a computer. Following is a section on new insights; which include the subsections How decision are made and Information needs of managers. There is a chart; Information Requirements by Decision Category; provided by Dr. Richard L. Nolan from "Managing the Data Resource Function." Following is a section called DSS Ingredients. Subsections include Responsible; easy to use language; Terminals; Models; Analysis; Reporting and graphics; Relevant information. Ease component is illustrated as a green block, and then illustrated on how each component works with the others in a chart. Following is a section called The DSS Implementation. Subsections include Building a financial framework; Immediate and future needs met; A common, secure source of information; Better support facilitates better decisions. A photograph is includedof a Go game board with pieces, and there are small captions with description around the photograph. The captions are Budgets; Long-range planning; Reporting; Forecasting; Ad hoc analysis; Mergers and acquisitions. Following is a description of the advantages of using Tymshare. Subsections include Expertise; Software; Quick start-up time; Communications network; Minimum investment in hardware.
Category
Promotional Material
Subject
promotional materials; Graphics applications; Scientific applications; Business applications; Software; Decision Support System (DSS) (Software); Tymshare, Inc.
Credit
Gift of Thomas J. Buckholtz and Helen T. Buckholtz