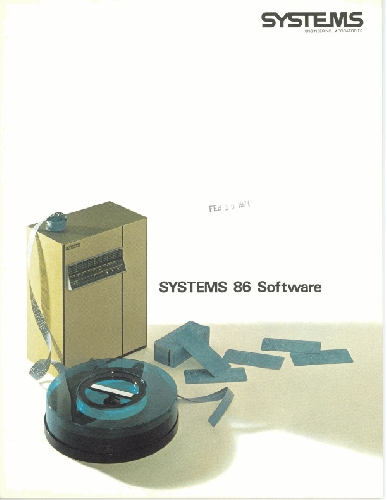 Title
SYSTEMS 86 Software
Description
Brochure for the Systems 86 software, has four color cover and black and white interior. The cover includes a color picture of a computer, tape reels and punch cards on a white background. Black and white photographs scattered throughout the brochure. Systems engineering laboratories logo on top, right corner of cover. The middle of the cover has a date stamp for FEB 19, 1971. The first part of the brochure is an introduction to the Systems 86 and its integration of hardware and software. Following there is a description of the Batch Processing System. Subsections include Job Control Processor; Control Monitor; Input/Output Service System; Systems Processors; Debug Program; and System General Program (SYSGEN). System diagrams are included in this section. Following is the description of Real-time Monitor. Subsections include Priority Interrupt system; Monitor Executive; Core Allocation; File Management; Cataloging; Time Scheduling; Monitor Services; Input/Output Operations (IOS); Communications Facilities; Batch Processing; Debugging Capabilities; and System Generation. This section also includes system diagrams. Next is the introduction of Extended FORTRAN IV and a listing of its advantages. Next is the description of Assemblers. Data flow chart is included. Next is a list of descriptions of other Systems 86 software.
Date
1971
Publisher
Systems Engineering Laboratories (SEL)
Place of Publication
U.S.
Identifying Numbers
| | |
| --- | --- |
| Other number | 3106-000009-000 |
Extent
26 p.
Dimensions
11 x 8 1/2 in.
Copyright Holder
Systems Engineering Laboratories (SEL)
Category
Promotional Material
Subject
Systems Engineering Laboratories; Digital computer: minicomputer; Extended FORTRAN IV (Software); BASIC (Software); SYSTEMS 86 (Computer); promotional materials; Business applications
Credit
Gift of Thomas J. Buckholtz and Helen T. Buckholtz