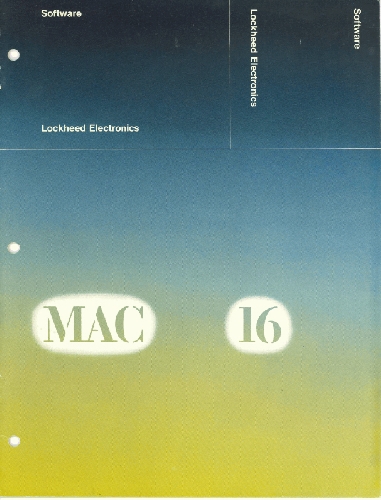 Date
1970
Publisher
Lockheed Electronics Company, Inc.
Place of Publication
U.S.
Extent
6 p.
Dimensions
11 x 8 1/2 in.
Copyright Holder
Lockheed Electronics (LEC)
Description
A four color brochure for the MAC 16. The cover is dark blue at the top and fades to a bright green. It is divided into boxes that contain the company's name, Lockheed Electronics, and the word "Software." Under these boxes, MAC 16 is written in stencil. Lockheed Electronic's address is on the back cover. An explanation of the MAC 16 begins on the second page of the brochure. It is divided into subsections such as System Building Tools; Single Precision Fixed Point; Double Precision Fixed Point; Single Precision Floating Point; Double Precision Floating Point; Complex Numbers; Multiplexing System; Real Time Monitor; Real Time System Core Allocations; Basic Hardware Requirements; and Real Time Monitor System Configurations. Information on the MAC 16's programs and system building tools is included, with particular attention given to the Lockheed Electronics Assembler Program (LEAP). There are three charts featured in the brochure; "Multiplexing System Capability (MIOP)," "Real Time System Core Allocations," and "Real Time Monitor." Technical specifications are included.
Category
Promotional Material
Subject
promotional materials; Software; Lockheed Aircraft Corporation; MAC 16 (Computer); Military/Aerospace applications; Punched card systems; Lockheed Electronics Company, Inc.; Lockheed Electronics (LEC); FORTRAN (Computer program language)
Credit
Gift of Thomas J. Buckholtz and Helen T. Buckholtz