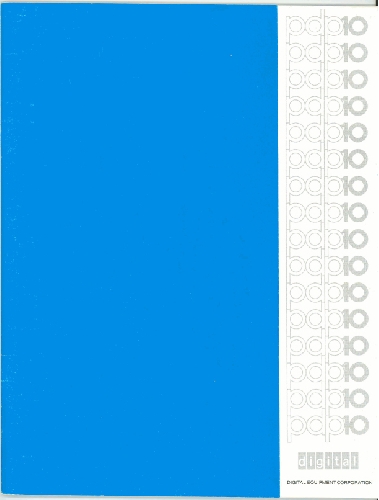 Description
A four color brochure for the PDP-10. The front cover is bright blue and folds out to reveal a picture of the PDP-10. A table of contents is included in the front of the brochure. The sections include "Meeting your needs;" "Some of our accomplishments;" "Getting down to specifics;" "A Choice of systems;" "Software to match your needs;" "A selection of hardware;" and "In summary." The "Meeting your needs" section elaborates on the PDP-10's capabilities, such as time-sharing, batch processing, and real-time operations. The brochure lists areas where the PDP-10 has proved useful: time-sharing utilities; university computing; in-house time-sharing; hybrid simulation; chemical laboratories; biomedicine; physics research; and industry. In the "Software to match your needs" section, the brochure lists language processors, conversational languages, batch processing, diagnostic programs and utility programs used by the PDP-10. Several pictures of people using the PDP-10 are included in the brochure. There are also several charts illustrating the different system choices available to the PDP-10 user.
Date
1969
Publisher
Digital Equipment Corporation (DEC)
Place of Publication
U.S.
Identifying Numbers
| | |
| --- | --- |
| Other number | D-1 ----5/69 ----500 |
Extent
31 p.
Dimensions
11 x 8 1/2 in.
Copyright Holder
Digital Equipment Corporation (DEC)
Category
Promotional Material
Subject
promotional materials; Digital computer: minicomputer; COBOL (Software); FORTRAN (Software); Graphics applications; Educational applications; Software; PDP-10 (Computer); Digital Equipment Corporation (DEC); Scientific applications
Credit
Gift of Thomas J. Buckholtz and Helen T. Buckholtz