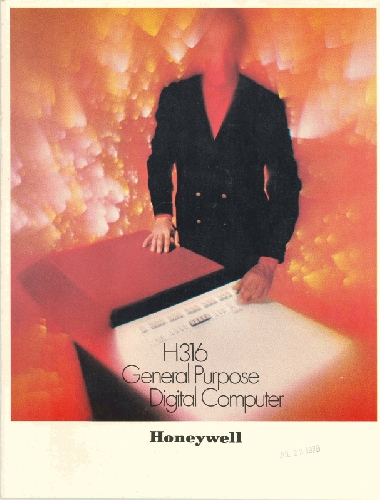 Title
H316 General Purpose Digital Computer
Description
The brochure introduces the H316 as a small, full-scale, all-purpose digital computer. Front and inside front cover of brochure contains large photographs of people using H316 computer and date stamp Jul 22 1970 at lower right. Large photographs of hardware and people at the computer are throughout. Large tables, diagrams, and flowcharts explain how the computer works. Text contents include:\ H316-first under $10,000 16-bit machine from a major comuter manufacturer; Wide variety of applications; Operation; Instruction Repertoire; Extensive Software; Many Options; Specifications; and Maintenance and Support. Back cover gives domestic and international addresses of Honeywell.
Date
1965
Publisher
Honeywell Inc. Computer Control Division
Place of Publication
U.S.
Extent
22 p.
Dimensions
11 x 8 1/2 in.
Copyright Holder
Honeywell Inc.
Category
Promotional Material
Subject
Digital computer: minicomputer; Business applications; promotional materials; H316 (Computer); Honeywell Information Systems, Inc. Computer Control Division
Credit
Gift of Thomas J. Buckholtz and Helen T. Buckholtz