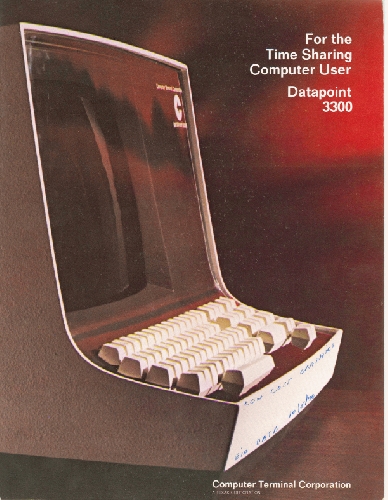 Title
For the Time Sharing Computer User Datapoint 3300
Description
This is a four color brochure for Computer Terminal Corporation Datapoint 3300. The front cover has a photo of the Datapoint 3300 against a reddish background. The company logo is on the bottom right corner. Handwritten in blue ink on the photo of the computer is "LOW COST GRAPHICS BIO DATA 10/5/70." Color photos scattered throughout the brochure. The first part is an introduction of the Datapoint 330 and its development. Following is a description of features. The subsections are Completely interchangeable with Teletype; Totally self contained; High speed data transmission rates; Handsome packaging; The Cathode Ray Tube Screen; Easy readability; Solid State Technology; Standard Teletype keyboard format; Magnetic tape memory; optional printer; and Low cost. Following is a description of the applications in various industries. On the inside back flap are the computer specifications.
Date
1969
Publisher
Computer Terminal Corporation (CTC)
Place of Publication
US
Extent
8 p.
Dimensions
11 x 8 1/2
Copyright Holder
Computer Terminal Corporation (CTC)
Category
Promotional Material
Subject
Graphics applications; Business applications; promotional materials; I/O: terminal / Teletype; Digital computer: minicomputer; Computer Terminal Corporation; Datapoint 3300 (Computer)
Credit
Gift of Thomas J. Buckholtz and Helen T. Buckholtz