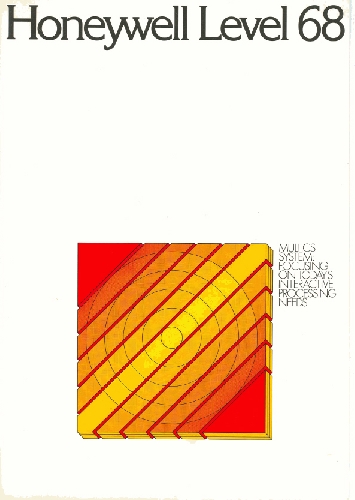 Title
Honeywell Level 68 Multics System: Focusing on Today's Interactive Processing Needs
Description
Three color brochure for Honeywell Level 68 Multics System. The cover features a red, orange, and yellow square next to the phrase "Multics System: Focusing on Today's Interactive Processing Needs." The brochure includes subsections such as The Multics Concept; Data Integrity and Security Mechanisms; and Two Techniques for Managing Your Data Base. Technical specifications are also included. Black and white pictures are included throughout the brochure and feature men and women using the Multics system and Honeywell terminals in an office. There are also screenshots of the Multics system.
Date
1973
Publisher
Honeywell Information Systems, Inc.
Place of Publication
U.S.
Identifying Numbers
| | |
| --- | --- |
| Other number | 1L11 |
| Other number | AK27, Rev. 3 |
Extent
9 p.
Dimensions
11 3/4 x 8 1/8 in.
Copyright Holder
Honeywell Information Systems, Inc.
Category
Promotional Material
Subject
Honeywell Level 68 (Computer); Business applications; promotional materials; Software; Honeywell Information Systems, Inc.; Multics (Software)