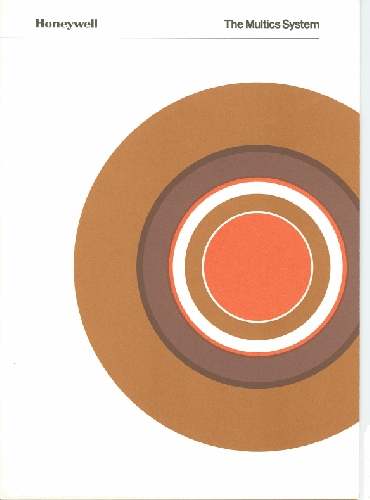 Title
Honeywell: The Multics System
Date
1975

Honeywell Information Systems, Inc.

U.S.
Identifying Numbers
| | |
| --- | --- |
| Other number | 14843 |
| Other number | 2276 |
| Other number | AK27, Rev. 2 |
20 p.
10 7/8 x 7 7/8 in.
Copyright Holder
Honeywell Information Systems, Inc.
Description
Three color catalog for the Honeywell Multics System Series 60 line, including Model 68/60 and Model 68/80. The front cover has a bullseye-type shape in multiple shades of orange and brown. The top edge banner reads "Honeywell The Multics System." The first page is a fold out with a brown background and black writing with closeup images of the computer and a paragraph entitled "An Advanced Concept for Fast, Secure Response to Customer Needs." Subsections in the interior include A Unique Business Problem-Solving Tool; Multics is Transaction Processing - and More; Computer Power That's Easy to Use; Security and Privacy; A Typical Example of Restricted Data; Multics User Interface; Dynamic Reconfiguration of Hardware Modules; Multics Virtual Memory; and User Productivity and Multics - Is It for You? The back pages are brown background with a pullout and a brief section on system configurations. A black and white graphic entitled "A typical Multics configuration" is on the back page. Black and white images of people working with the computer are scattered throughout the brochure.
Category
Promotional Material
Subject
Honeywell Information Systems, Inc.; Business applications; promotional materials; Digital computer: mainframe; Multics Model 68/60 (Computer); Multics Model 68/80 (Computer); Software