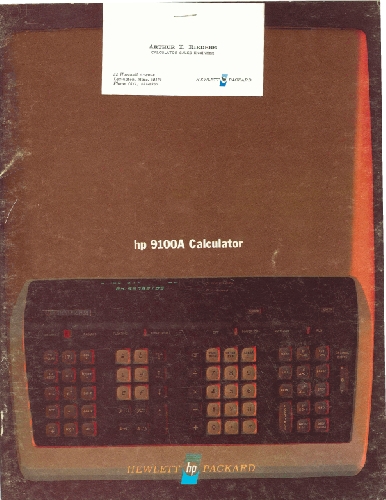 Title
HP 9100A Calculator
Description
Four color brochure for the hp 9100A calculator. The cover features a picture of the hp 9100A calculator that displays its keyboard. The inside cover includes a picture of a man standing below the heading "Expand Your Time for Creative Thinking!" It also folds out to show another picture of the hp 9100A calculator. The brochure includes subsections for features such as Entry and Arithmetic Operations; Positioning and Storage; Coordinate Conversions, Extended Trig and Log Functions; and Programming. Several drawings show men recording data, using the calculator, and swiping the magnetic programming card. Examples of equations that the calculator can be used to solve are featured in the brochure. Pictures of men and women working with Hewlett Packard products and a map of their world-wide sales and service are included on the inside of the back cover. Pricing information is also included.
Date
1968
Publisher
Hewlett-Packard Company (HP)
Place of Publication
U.S.
Extent
20 p.
Dimensions
10 7/8 x 8 3/8 in.
Copyright Holder
Hewlett-Packard Company (HP)
Category
Promotional Material
Subject
Scientific applications; Calculator: electronic; promotional materials; Calculator: programmable; Hewlett Packard Company; hp 9100A (Calculator); Software