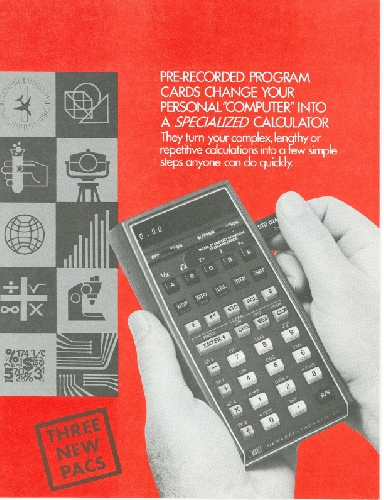 Description
Three color brochure for newly introduced pacs for the programmable HP-65 calculator. The front cover has an orange background with a black and white image of a man's hands holding the HP-65 and, on the left edge, a copy of the graphics from each pac. Each pac is allotted a column headed by a graphic and the title of the pac and containing information on its use. The pacs included are the Standard Pac, Finance Pac I (new), Math Pac 1, Math Pac 2, EE Pac 1, Stat Pac I, Medical Pac I, Navigation Pac (new), Aviation Pac 1 (new) and Surveying Pac 1.
Date
1974-07
Publisher
Hewlett-Packard Company (HP)
Place of Publication
U.S.
Extent
4 p.
Dimensions
11 x 8 1/2 in.
Copyright Holder
Hewlett-Packard Company (HP)
Category
Promotional Material
Subject
Software; Business applications; Scientific applications; promotional materials; Military/Aerospace applications; Hewlett-Packard Company (HP); HP-65 (Calculator); Calculator: programmable