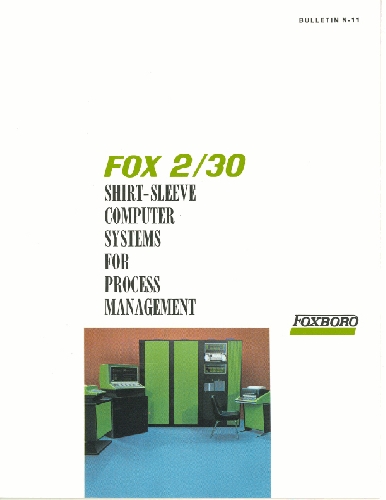 Title
FOX 2/30 Shirt-Sleeve Computer Systems For Process Management
Description
the brochure introduces the FOX 2/30 computer as the next generation above the FOX 1 and FOX 2. The front cover is solid white and shows a color photograph of the FOX 2/30 system and the company logo; back cover lists of international addresses of Foxboro worldwide facilitie and shows the company logo. The front and back cover inside pages show black and white cartoons. Throughout the inside pages, black and white photographs show close ups FOX 2/30 hardware and people working at the computer in office and industrial settings, and full page color flowcharts explain how the computer works. Text contents include: FOX 2/30 process management system offers you all these features...and more;FOX 2/30 software; and FOX 2/30 hardware.
Date
1972-01
Publisher
Foxboro Digital Systems Division
Place of Publication
U.S.
Extent
26 p.
Dimensions
11 x 8 1/2 in.
Copyright Holder
Foxboro Digital Systems Division
Category
Promotional Material
Subject
I/O: other; Fixed-application digital computer: industrial; Business applications; Foxboro Digital Systems Division; Software; promotional materials; Digital computer: minicomputer; Educational applications; FOX 2/30 (Computer); Fortran IV (Software)