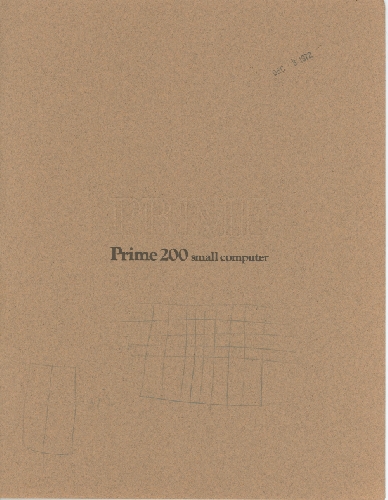 Title
Prime 200 Small Computer
Date
1972

Prime Computer, Inc. (PR1ME)

U.S.

14 p.

11 x 8 1/2 in.
Copyright Holder
Prime Computer, Inc. (PR1ME)
Description
Black and white brochure for the PRIME 200 computer and software system. The cover is printed on brown paper. The front of the cover features a date stamp, the word "Prime" in raised letters, and the title "Prime 200 small computer." There is a description of the PRIME 200 and a table of contents on page 1. The subsections include design philosophy; software overview; hardware; performance examples; and product reliability. There is also a perforated page attached to the back cover with technical specifications. On page 11, there are examples of the PRIME 200's efficiency, including the Extremely Flexible Macro Assembler; Single-word, memory reference instructions; and FORTRAN Compiler [that] generates Optimized Code.
Category
Promotional Material
Subject
Scientific applications; PRIME (Software); FORTRAN (Software); Digital computer: minicomputer; Software; promotional materials; PRIME 200 (Computer); Prime Computer, Inc.
Credit
Gift of Thomas J. Buckholtz and Helen T. Buckholtz