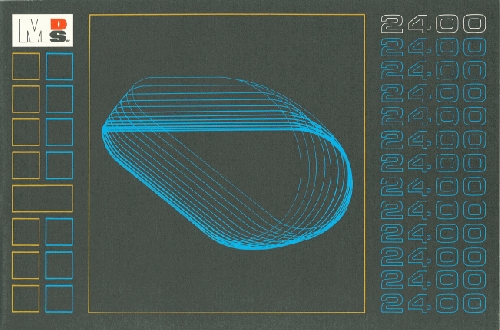 Title
System 2400 the Peripheral Processor
Description
Four color brochure for the MDS System 2400. The cover has a black background with a column of "2400" on the right edge. A Mobius Band is depicted in blue in the center panel of the cover. The left has a series of squares in yellow and blue. The vendor's label is in the upper left corner. On the first page is a date stamp for Apr 7 1971 and the handwritten notation "ATRON." Images of women using the System 2400 are scattered throughout the brochure. The term "System 2400" written in blue is scattered throughout the brochure. In the middle of the brochure are two pocketed pages, one with a business reply mail postcard requesting more information inserted inside. Hardware specifications are listed. A company information page is also included.
Date
1975
Publisher
Mohawk Data Sciences Corporation (MDS)
Place of Publication
U.S.
Extent
19 p.
Dimensions
6 x 9 in.
Copyright Holder
Mohawk Data Sciences Corporation (MDS)
Category
Promotional Material
Subject
Business applications; Digital computer: minicomputer; promotional materials; Mohawk Data Sciences Corporation (MDS); System 2400 (Computer)
Credit
Gift of Thomas J. Buckholtz and Helen T. Buckholtz