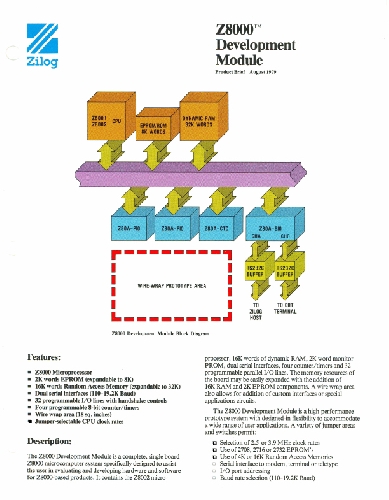 Title
Z8000 Development Module
Description
The brochure introduces the Z8000 as a microcomputer specifically designed to assist users in developing hardware and software for other Z8000 products. The brochure is hole punched for placement in a 3-ring binder. The front cover shows a labeled, color diagram of the Z8000 on a white background and the company logo. The back cover shows the company logo and international and domestic addresses. The back cover folds out to show a double page, labeled, color photograph of a Z8000 circuit board. Other pages provide lists of command language and labeled, color diagrams of system architecture. Text contents include Features; Description; Software features; Upload/download features; Command and summary; and Specifications.
Date
1979-08
Publisher
Zilog, Inc.
Place of Publication
U.S.
Extent
4 p.
Dimensions
11 x 8 1/2 in.
Copyright Holder
Zilog, Inc.
Category
Promotional Material
Subject
Digital computer: development system; Business applications; promotional materials; Z8000 Development Module (Computer); Zilog, Inc.