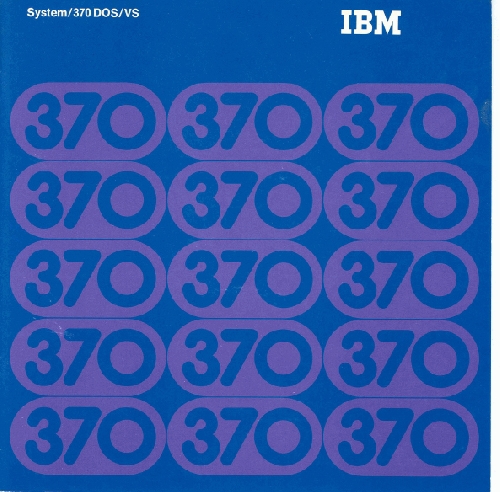 Title
IBM System/370 DOS/VS
Description
Black and white brochure with color cover for DOS/VS. The front cover has a blue background with 3 columns of purple ovals in which are written 370. The upper left corner says, in white, System/370 DOS/VS. The upper right corner, in white, has the IBM logo. Black and white images of people working with the DOS/VS system on IBM computers, specifically the 370, are scattered throughout the brochure. Subsections include Its record speaks for itself; Something old, something new; Relocating loader; Broader range of job partitions; Spooling now a standard feature; Virtual storage support is standard; Features for go-power and grow-power; Move up to DOS/VS; and An action program for your computing system. The verso cover has office locations for IBM in the upper left corner.
Date
1973
Publisher
International Business Machines Corporation. Data Processing Division. (IBM)
Place of Publication
U.S.
Extent
8 p.
Dimensions
8 1/8 x 8 1/8 in.
Copyright Holder
International Business Machines Corporation (IBM)
Category
Promotional Material
Subject
Software; DOS/VS (Software); Business applications; promotional materials; Educational applications; International Business Machines Corporation (IBM); System/370 (Computer); Digital computer: mainframe