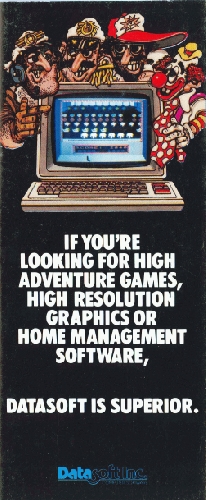 Title
If You're Looking for High Adventure Games, High Resolution Graphics or Home Management Software, Datasoft is Superior.
Description
The brochure introduces Datasoft software for entertainment, gaming, graphics, and personal use. The brochure is white print on black background. Color graphics on front and back cover include cartoon characters. Throughout are cartoon characters, screen shots of software applications, and photographs of people working on assembly line and at computers in office settings. Text contents include: Few companies are better equipped to test the limits of your imagination or design higher quality products than Datasoft; For the widest variety of choices in exciting arade games; don't leave it to chance; Leave it to Datasoft; Playability, quality, affordability; 3 added dimensions to add to your enjoyment; and Home management tools that bring the power of the computer home.
Date
1983
Publisher
Datasoft
Place of Publication
U.S.
Extent
10 p.
Dimensions
8 1/2 x 3 1/2 in.
Copyright Holder
Datasoft
Category
Promotional Material
Subject
Canyon climber (Software); Clowns & Balloons (Software); Shooting Arcade (Software); Fathom's 40 (Software); Pacific Coast Hwy (Software); O'Riley's Mine (Software); Micro-Painter (Software); Moon Shuttle (Software); Color Print (Software); Graphic Master (Software); Graphic Generator (Software); Le Stick (Software); Lisp (Software); Text Wizard (Software); Sands of Egypt (Software); promotional materials; Rosen's Brigade (Software); Zaxxon (Software); Tumble Bugs (Software); Spell Wizard (Software); Basic Compiler (Software); Datasoft; Educational applications; Entertainment/Gaming applications; Personal applications; Graphics applications; Software; Game
Credit
Gift of Lyle Bickley