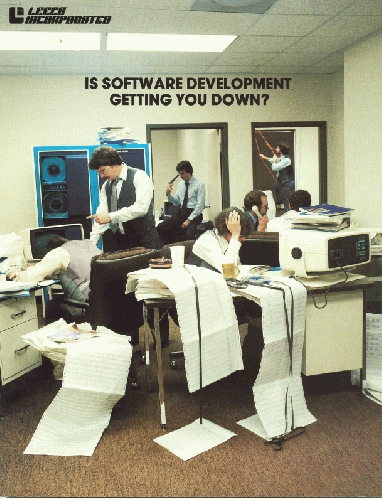 Title
Is Software Development Getting You Down?
Date
1981
Publisher
Leeco Inc.
Place of Publication
U.S.
Extent
6 p.
Dimensions
11 x 8 1/2 in.
Copyright Holder
Leeco Incorporated
Description
This is a four-color brochure for the Leeco Incorporated Dimension software. The front cover has a group of people at their messy desks in an office. The front desk has a stack of papers, tapes, drinks, and cigarettes in an ash tray. The man at this desk is holding his head in front of the computer. There is another person, to the left, that looks like he is chastising someone sleeping at their desk in front of a computer. There are two other people at the desk in the back, one is on the phone. There are two people in the background trying to commit suicide, both are in separate offices. One has a gun to his head and one is tying a rope around his neck. The title is on the top, which States "Is Software Development Getting You Down?" The logo for Leeco Incorporated is on the top left corner. First there is an introduction to the features of the Dimension software that will help simplify workflow, and ultimately save money. Following is a photograph of a man and a smiling woman at a neat desk, and next to the photograph it states "THEN LISTEN TO THE GOOD NEWS! NOW YOU CAN BOOST YOUR BUSINESS DATA PROCESSING INTO A NEWà" Following is a photograph of the software CDs and the software manual, against a background of outer space. There is a beam of alight on the software. Following is a description of the various solutions that are provided. Subsections include DIMENSION PROVIDES SOLUTIONS FOR SYSTEMS ANALYSTS; DIMENSION PROVIDES SOLUTIONS FOR PROGRAMMERS; DIMENSION PROVIDES SOLUTIONS FOR OPERATIONS PEOPLE; DIMENSIONS PROVIDES SOLUTIONS FOR GROWTH-ORIENTED BUSINESS; and WE WAN TO TELL YOU MORE. Following is a tear-off that can be mailed to the company, requesting more information.
Category
Promotional Material
Subject
Business applications; Software; promotional materials; Dimension (Software); Leeco Inc.
Credit
Gift of Thomas J. Buckholtz and Helen T. Buckholtz