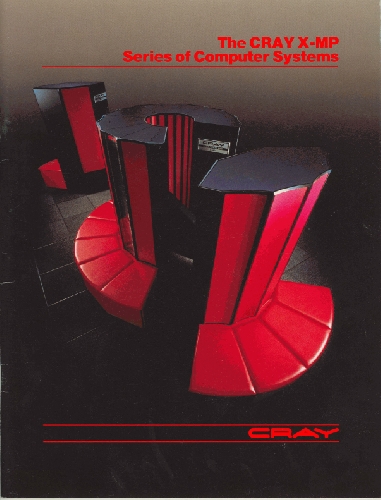 Title
The CRAY X-MP Series of Computer Systems
Description
Four color brochure for the CRAY X-MP series of computer systems. The cover features a picture of a CRAY X-MP over a black background. The inside of the front cover has a short history of Cray computers. Subsections in the brochure include System overview; CRAY X-MP design; CRAY X-MP software; System integration; Support and maintenance; and CRAY X-MP design detail. The System overview section includes information on different models of the CRAY X-MP, such as the CRAY X-MP/4, CRAY X-MP/2, and CRAY X-MP/1. Pictures of CRAY X-MPs are featured throughout the brochure. On the brochure's page 3 there is a chart of the multiprocessor system organization. On the brochure's page 19 there is a chart of the CRAY X-MP system organization. There is a grey subsection that stretches throughout the brochure. This subsection features information about the diversity of applications usable with the CRAY X-MP, including examples such as geological research, computational physics, image processing, and computer graphics. Colorful images accompany each application example. Technical specifications are included.
Date
1985
Publisher
Cray Research, Inc. (CRI)
Place of Publication
U.S.
Extent
26 p.
Dimensions
11 x 8 1/2 in.
Copyright Holder
Cray Research, Inc. (CRI)
Category
Promotional Material
Subject
Software; Graphics applications; FORTRAN (Software); Digital computer: supercomputer; Scientific applications; Military/Aerospace applications; promotional materials; CRAY X-MP (Computer); Cray Research, Inc. (CRI)