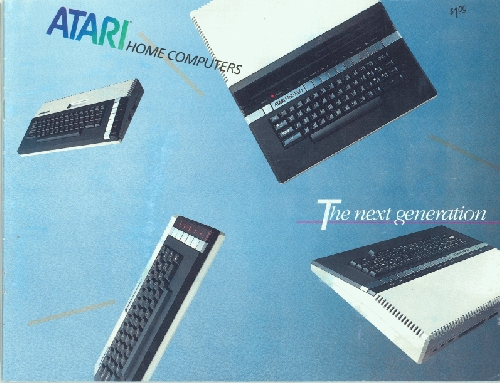 Title
Atari Home Computers: The Next Generation
Description
The brochure introduces four new Atari Home Computers with new features, the assessories and add on components, such as printers, modem, touch tablet, joystick, trak-ball, keypad, and the software: educational, business, computer languages, games. The brochure is printed in full color with full page, color photographs of the featured computers and people using the computer, photoraphs of the assessories and the software packages, and monitor screen shots of displays of software applications. The front and back covers are blue with color photographs of the Atari home computers floating in the blue on the cover and the brochure's price of $1.00 printed in the upper right corner. A table of contents is provided on the first inside page. The Atari logo is on the inside back cover. The Atari 600XL, 800XL, 1400XL, and 1450XLD are featured in full color photographs accompanied by users' personal stories with photographs and lists of specifications and technical points. The assessories and the software products are described through photographed and lists of specifications. Text contents include: New tools for discovering new talents; Features for feature, your best value: The Atari 600XL Home Computer; More memory means more computer power: The Atari 800XL Home Computer; The computer that talks to you--and to the world: The Atari 1400XL Home Computer; All your computer power in one component: The Atari 1450XLD Home Computer; Put it on paper; Have it on disk or tape; The next generation is plugged in...; How the next generation is learning; Developing new talents, refine existing ones; For running a business out of your home; For the business of running a home; Discover the languages of the next generation; Play Atari with the next generation; Coming your way in the very near future; You're off to a running start with Atari All-In-One Paks; Then take off in new directions with Atari Add-A-Paks; You'll always have ties to Atari.
Date
1983
Publisher
Atari, Inc.
Place of Publication
Taiwan
Identifying Numbers
| | |
| --- | --- |
| Other number | 1984.2.C.C. |
| Other number | C017535-05 REV. B |
Extent
30 p.
Dimensions
8 1/2 x 11 in.
Copyright Holder
Atari, Inc.
Category
Promotional Material
Subject
Entertainment/Gaming applications; Atari 1450XLD (Computer); Atari 800XL (Computer; Educational applications; Atari 1400XL (Computer); Personal applications; Digital computer : personal; promotional materials; Atari, Inc.; Atari 600XL (Computer)