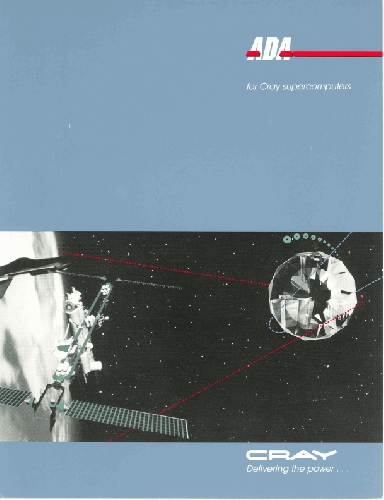 Title
ADA for Cray Supercomputers. Cray Delivering the Power.
Date
1988-09

Cray Research, Inc. (CRI)

2 p.

11 x 8 1/2 in.
Copyright Holder
Cray Research, Inc. (CRI)
Description
the brochure introduces the Ada compiler for Cray supercomputers. The brochure is solid gray on its front and back covers and shows on the front cover a black and white photograph of a satellite in orbit in space near a planet . The back cover shows a list of corporate addresses, domestic and internationa and the company logol. The centerfold page shows a stylized photograph of print outs of coding. Content subheadings include A language for the future; Features of Ada; Features of Cray Ada; Validation; Development of Cray Ada; and Publications, training, and support.
Category
Promotional Material
Subject
Software; Digital computer: supercomputer; Cray Research, Inc. (CRI); Scientific applications; promotional materials; Cray (Computer); Ada (Software)