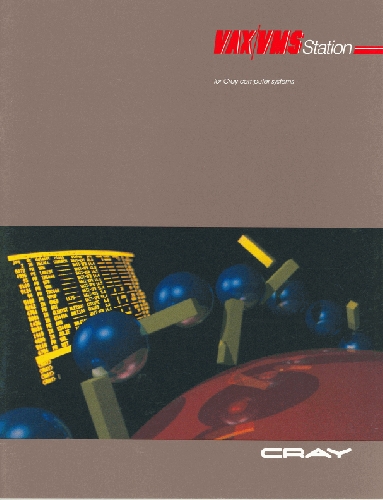 Title
VAX/VMS Station for Cray Computer Systems
Description
Four color brochure for the VAX/VMS Station. The cover features a digital image of floating blue spheres and a Cray system station display in the background. There is a short history of Cray Research, Inc. on the inside cover, along with a description of the VAX/VMS Station and its uses. Subsections include User Features; Applications; System Management; and Software. User Features includes a partial list of user commands and examples of when these commands would be used. Installation instructions are included in the System Management subsection. The Software subsection lists the main components of the VAX./VMS Station. Illustrated charts are included in the subsections. Digital images are featured in the Applications subsection. Some technical specifications are included in the brochure.
Date
1986
Contributor
Ford Motor Company
Lorig, Gray
Publisher
Cray Research, Inc. (CRI)
Place of Publication
U.S.
Extent
6 p.
Dimensions
11 x 8 1/2 in.
Copyright Holder
Cray Research, Inc. (CRI)
Category
Promotional Material
Subject
Scientific applications; Military/Aerospace applications; Educational applications; Digital computer; promotional materials; VAX/VMS Station (Computer); Cray Research, Inc. (CRI)