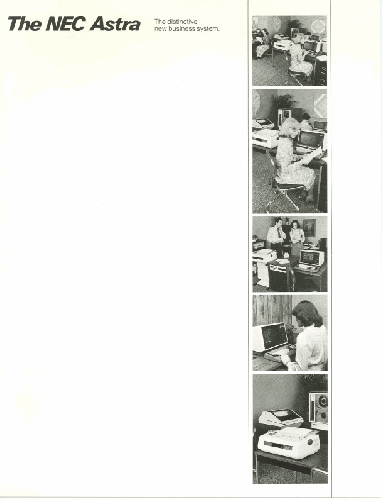 Title
The NEC Astra: The Distinctive New Business System.
Description
The brochure introduces the Astra Series as smart, easy -to-use, business computers. The brochure is printed in full color on silver paper on all but the brochure's front cover. The front cover displays black and white photographs of office workers using Astra computers; the back cover shows the company logo. Inside pages shows full page, color photographs showing people using the Astra computer in office settings. Text contents include: The NEC Astra. The distinctive new business system; How you use the NEC Astra; What your new business partner does for you; NEC Astra security; The Astra Series has quite a future; A partner you can depend on; There's more.
Date
1980
Publisher
NEC Information Systems, Inc.
Place of Publication
U.S.
Extent
6 p.
Dimensions
11 x 8 1/2 in.
Copyright Holder
NEC Information Systems, Inc.
Category
Promotional Material
Subject
Astra 230 (Computer); Business applications; NEC Information Systems, Inc.; Astra 250 (Computer); Astra 210 (Computer); Digital computer: desktop; Astra Series (Computer); promotional materials; Astra 270 (Computer)
Credit
Gift of Thomas J. Buckholtz and Helen T. Buckholtz