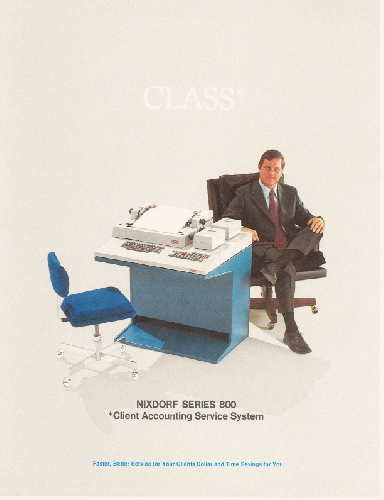 Title
Nixdorf Series 800 Client Accounting Service System CLASS
Description
The brochure introduces the Nixdorf Series 800 client accounting service system (CLASS) as an in-house, computer-based accounting system for CPAs and public accountants. The brochure's front cover is gray and shows a color photograph of someone sitting beside the Nixdorf Series 800 CLASS. The back cover is white and shows the company logo and addresses and a color photograph of the Nixdorf Series 800 CLASS. In the brochure's centerfold, a diagram shows possibilities for inputting and outputting data and a black and white photograph shows the computer's keyboard. Text contents include: CLASS features:; CLASS benefits:; "Single entry" for double-entry bookkeeping; Continuous updates; Month-end and annual reports; CLASS...for less than $10 per client per month; Looking ahead.
Date
1973-09
Publisher
Nixdorf Computer Corporation (NCC)
Place of Publication
U.S.
Extent
2 p.
Dimensions
11 x 8 1/2 in.
Copyright Holder
Nixdorf Computer Corporation (NCC)
Category
Promotional Material
Subject
Business applications; Nixdorf Computer Corporation; OpScan 17 (I/O); promotional materials
Credit
Gift of Thomas J. Buckholtz and Helen T. Buckholtz